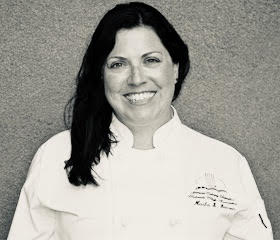 Chef Marla has over 18 years of professional cooking experience.
In 2000, she earned degrees in Culinary Arts and Food Service Management at Johnson & Wales Charleston. In 2015, she completed the Hospitality MBA program at Johnson & Wales Denver. Marla has worked as a Chef Instructor at The Art Institute, Metropolitan State University, and The Auguste Escoffier School of Culinary Arts. She has spent time in some of the top fine dining kitchens in the United States. She is one of a handful of American females professionally trained in the art of sushi making.
She has worked as a kitchen manager for The Cooking Channel, a freelance food stylist, and her food writing has been published in a handful of culinary publications. In 2012, Marla traveled to China as a guest of the Chinese Hotel Association to take part in two international culinary trade shows. In 2014, Marla traveled to Thailand to train with Chef Roongfa Sringam.
In 2011, Marla was diagnosed with Celiac disease, forever altering the way she cooks/eats. Marla is skilled at gluten-free cooking and adapting recipes for any special dietary restrictions. Whatever diet you follow, Marla can accommodate you.
Marla is an expert on food safety and sanitation. She holds 3 ServSafe certifications from the National Restaurant Association (ServSafe Manager, ServSafe Proctor, and ServSafe Instructor).
In addition to Fresh Beets Kitchen, Marla also owns and operates Scarlet Fire®, an artisanal hot sauce company. www.scarletfirehotsauce.com